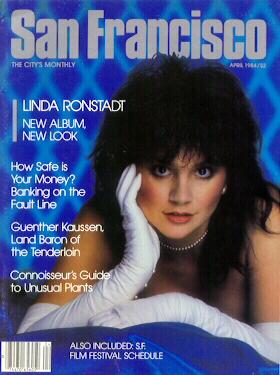 LINDA RONSTADT is dressed in a white, strapless, sequined dress with a sweetheart neckline. A white bow holds her hair back and she's wearing full-length, white gloves with matching pumps. She stands slightly pigeon-toed with her hands clasped lightly in front of her, palm facing palm, and her head bowed slightly downward. Her shoulders swing slowly back and forth, and even from 24 rows back one can see those huge, puppylike eyes blinking shyly. She seems nervous and uncomfortable, like a child dressed up for presentation at a party who suddenly loses all identity in the folds of unfamiliar clothes. She looks up, smiles, and places both hands on the microphone stand. And then, she unleashes that voice, the voice that Newsweek said sends "shivers down the spine."

Ronstadt came to San Francisco in March to promote her latest album, What's New, which was released in September and has already sold more than two million copies. At the end of December it peaked on Billboard charts at number 3 and has slipped, as of March 10, down to number 28.

Ronstadt's latest success is a collection of nine big-band ballads written between 1924 and 1949 and arranged by Nelson Riddle, who won this year's Grammy for "Best Arrangement- Instrumental Accompanying Vocals." Riddle, whose impeccable arrangements have graced the albums of Frank Sinatra, Nat "King" Cole, and Judy Garland, is perhaps equally responsible for the astonishing success of What's New. It is his orchestration that gives the album its lush, almost seductive sound, providing the perfect backdrop for Ronstadt's cooing invitations. In concert, his talents are even more appreciable; he provides a consistent equilibrium between the singer and the musicians, rendering the effect of two well-tuned instruments in harmony.

What's New was a gamble for Ronstadt; one that many feared would alienate her bread-and-butter rock fans. Carly Simon released a similar collection of oldies in 1981 called Torch. So far, it has sold slightly over 300,000 copies world-wide. A week after the release of What's New, Time wrote that Ronstadt was "currently in musical disfavor among her peers." Indeed, even before the release of What's New, some of her fans were already beginning to feel betrayed. "I used to like Ronstadt a lot, at least the old Ronstadt," said one. "Heart Like a Wheel was the best album she ever put out. Since then, except for a few songs, I think she's gone downhill. I don't like her new stuff at all."

In a letter to People, in March of 1983, one reader wrote that "Ronstadt's choice of songs has become wimpy and self-pitying. Occasionally she performs some damned good rock 'n' roll, but too often she picks dull, weepy tunes. Even singers like Barbra, Cher, and Helen Reddy... now sound gutsy compared to Linda."

Ronstadt started the project in 1981, spending four frustrating days in a New York studio with producer Jerry Wexler. The attempt failed, and she ended up putting out Get Closer instead. She returned to the project in June of 1982. By March of 1983, the final song on What's New had been recorded.

Peter Asher is the man most credited with helping Ronstadt become what she is today- a superstar. As her long-time producer and manager, he has witnessed first-hand her development both musically and commercially. I asked him if he was surprised by the success of What's New. "When she first mentioned the project, we all thought it was a bit of a whim," he said. "We knew that she could sing it, but we weren't sure it would sell. Of course, when we actually did it, we were quite pleased, and its success has exceeded my highest hopes. Linda can sing anything, and she sings this extraordinarily well."

Does the album mark the arrival of a new Linda Ronstadt, one quite different from the rock singer who preferred to perform in a cub scout uniform or very short shorts rather than a dress? "It's always a new Linda Ronstadt," says Asher, "and we will see many more new Linda Ronstadts." According to Asher, Linda, who does not write her own music, considers herself a singer above all else. In his opinion, she's capable of tackling almost any project she sets her mind to.

In an interview with Rolling Stone, Ronstadt talked about another change in fashion she had recently undergone, revealing, as Asher says, why there will always be a new Linda Ronstadt: "Now, this new look is not really a change, it's just a different facet of my personality. As each new facet is exposed, the public tends to think the 'slide' is being changed. It's not; it's just being rotated... Music is always a couple of steps ahead of high fashion... It used to be movies that dictated high fashion, but pop music took over a long time ago- around the fifties. Fashions reflect cultural change."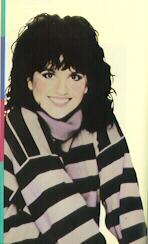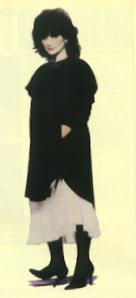 The link between music and fashion is nothing new. When the Beatles crossed the Atlantic in 1964, they changed the hairstyles of American youth. Since then, many pop artists have been as noted for their influence on fashion as they have for their musical talents. Boy George is a shining example.
The question arises as to whether with What's New, Ronstadt is spearheading a revival of the look and clothing of the twenties, thirties, and forties. Ed Kotula, an administrator with the Charm School of San Francisco, doesn't think so. "Personally, I think that Linda's trying to salvage her career rather than launch something new. I think she's into maintaining rather than being progressive. I mean, she's not as big as she used to be," Though Kotula calls What's New "a wonderful album," he feels that its appeal is limited to an older audience, one less susceptible to fads in fashion than teen-agers are. As a result, he doesn't think that either What's New or Linda Ronstadt is going to spark a revival of yesterday's fashions.
In Kotula's opinion, the prom look that Ronstadt has adopted is actually a product of the sixties, a period style which he says is very popular at the moment in Japan. "All those girls are dressing up on weekends in prom dresses that reach down to their knees, so it's very trendy over there, it's almost a fad for sixties fashion, though it smacks of forties because they wear gloves and little bracelets and stuff." Ronstadt is scheduled to play in the Tokyo Music Festival this month. Said Kotula, "They'll love her."
Denise Dorrance is a fashion assistant with Cosmopolitan. According to her, Cosmopolitan's August cover, which featured a pink ballroom dress designed by Jon Haggins, was "the most popular cover we've ever had." Dorrance was unsure about whether the success of that cover was the result of a trend, but she did speculate that it may signify a renewed interest in the fashions of that era. Yet if fashion is cyclical, as Dorrance believes it is, then in her opinion the clock is now being turned back to a more recent time. "We're going back to the sixties," she said, and with it, "miniskirts and neon colors." For the time being, it seems, Ronstadt runs little risk of running into another woman wearing the same dress; unless, of course, she's in Japan.
In assuming an early prom style for the promotion of What's New, whether it be from the twenties, the sixties, or a combination of the two, Ronstadt is simply establishing her own personal equation between the music and its presentation. The equation works; in the presence of Riddle's 47-piece orchestra, only the younger members of the audience seem out of place.
LINDA RONSTADT was born July 15, 1946, in Tucson, Arizona. She has two brothers, a sister, and a musically talented father who has had a strong influence on her music and still advises her on some of her projects. Her mother died two years ago while Ronstadt was in England filming the movie version of The Pirates of Penzance. At the age of 18, after one semester at the University of Arizona, Ronstadt left home and headed for Los Angeles, where such artists as Jim Morrison, Neil Young, and Joni Mitchell were gaining recognition. According to biographer Connie Berman, she arrived in L.A. with only $30 in her pocket.
Ronstadt's first big hit was a song entitled "Different Drum," released in 1967 by a group called the Stone Poneys. Soon after, Ronstadt struck out on her own, and with the help of Peter Asher, she honed the vocal talents for which she is now famous. By the time she released Heart Like a Wheel in 1974, Ronstadt was a star. Since then, such hit albums as Hasten Down the Wind, Living in the U.S.A., and Simple Dreams, as well as her role in The Pirates of Penzance, have made the name Linda Ronstadt a permanent fixture in the vocabulary of pop music.
What's New stands out from a Ronstadt discography as her most experimental album to date. In deviating from whatever norm might be derived from her past albums, Ronstadt has provided her audience with a well executed expression of her versatility as an artist. Listening to such standards as "I've Got a Crush on You" and "Guess I'll Hang My Tears Out to Dry," it's hard to believe that Ronstadt has ever sung anything but big-band love ballads. As Asher said, it's difficult to imagine Ronstadt standing on stage in her white, sequined dress and full-length gloves singing the Rolling Stones' "Tumbling Dice." No more difficult, though, than visualizing her in her well-worn cub scout outfit and singing the 1949 hit, "Crazy He Calls Me."
With over two million copies of What's New on turntables and in tapedecks across the country, it's obvious that Ronstadt's revival of golden oldies fills a vacuum, She recently commented on the popularity of the old standards to Musician. "Older people come up to me on the street and thank me for having liberated this music again... for letting it come out of the elevator and back into the mainstream."
At the opening night of her San Francisco appearance, many of her fans agreed. "It's so nice to see someone with her talent bring the songs that I grew up with back to popularity," commented one man in his early sixties. "I really think that she's the only one who could have done it. She's got the voice..."
Another woman admitted to being dragged to the concert by her daughter, and was surprised to find out how much she enjoyed herself. "My daughter used to blare her [Ronstadt's] albums when she was living at home... we have very different tastes... anyway, I never would have believed that my daughter and I would attend the same concert. We loved it."
Aside from the recognition she receives as a singer, Ronstadt also gets a good deal of publicity for her romantic interludes, both real and alleged. She appeared on the cover of Newsweek in 1979 not because of her voice, but because she was sitting beside Jerry Brown on a plane bound for Africa. In the past, Ronstadt had a reputation for getting involved with many of the people she worked with, particularly her managers. Those relationships soon ran into trouble. She told Time in 1977 that mixing work and pleasure "is always a bad idea. First there is business, then business and sex, then the business goes sour, and then there is no sex." Part of the success and durability of her working relationship with producer-manager Peter Asher has been attributed to the fact that they have honored the fine line between work and play.
The present gossip concerns a possible romance with Star Wars writer and director George Lucas. According to one source, Lucas arrived backstage at her Concord Pavilion concert last October after traveling by helicopter and limousine from a benefit held at the Designer Showcase in Mountain View. After Ronstadt's latest San Francisco appearance, Chronicle gossip columnist Pat Steger reported that Lucas was seen at all four performances. "I hope they are dating," said one enthusiastic fan, "because maybe then we'll get to see her around San Francisco more."
Linda Ronstadt's future promises to be as varied and unpredictable as her past. An HBO special filmed in March with Riddle and his orchestra is scheduled to be aired in early June. After filming the special, Ronstadt is off to Japan to perform in the Tokyo Music Festival; she's planning a tour of the States in July. Next fall she will play the role of Mimi in Puccini's La Bohème, at the Public Theatre in New York for a limited engagement. For those who enjoyed What's New, Ronstadt has another album in the making with Riddle that she hopes to get out by next Christmas.
What about Linda Ronstadt the rock 'n' roll singer?
"I would be extremely surprised if she didn't put out another rock album," says Asher. In fact, according to Asher, there's even talk of another country album and an album sung entirely in Spanish. But given her present schedule, none of this will happen until 1985.
Linda Ronstadt's opening night concert was a musical success. Despite the endless array of technical problems plaguing the production, Ronstadt and Riddle provided a rousing and sentimental review of yesterday's standards. After singing an excellent version of "What'll I Do," Ronstadt announced that she was going to finish the concert with "Goodbye," another song from What's New. But that was not enough, and to the delight of the audience, Ronstadt took the stage again. Standing on the far left next to a pianist and maintaining the same coy, girlish air she had held throughout the performance, Ronstadt went into a standard from her own generation; "Desperado." The crowd loved it, and all too soon there was only the sound of clapping, the shuffling of feet, and the memory of a shy woman with big brown eyes, a pretty white dress, and a brilliant voice.